Manitoba Filipino Street Festival 2019
Saturday's rain did not dampen any spirits as CROWN Honda paraded through the Maples. As I paraded with CROWN Honda (while Instagramming the event) I noticed that even though the cool rain was soaking the streets and onlookers the smiles on the Filipino Street Festival attendees shone through the dark clouds.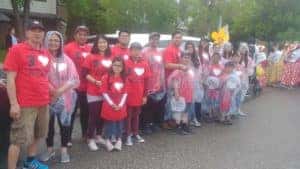 Last year was my first Filipino Street festival with CROWN Honda. I myself am not Filipino but I have always felt welcome during this event. I noticed some similarities between this year and last year, like Rubina handing out sweets of some kind, or Joel piloting the prize wheel, but there were also differences, like seeing Marc's kids growing up and meeting Carol's whole family during the parade.
The entire community came out to support one another, rain or shine. Before the parade had even started Marc was interviewed on a live Facebook stream! The parade began on Watson, marching past homes and local businesses to conclude at The Maples Multiplex Arena, a local gathering place for many Filipinos. Professional and everyday cameras were capturing the event, including a drone flying over the top of the heads of parade participants.
A multitude of parade participants included the Brandon Filipino Community and the Isabela Association of Manitoba, and the Pilipino Express. We had the privilege of being near the beginning of the parade this year. Our CROWN Honda shuttle showed us the way and one of our other Honda's rounded the rear to make sure we didn't get lost along the way.
Our team waved our tall red balloons and distributed goodies to the crowd along the trail, eventually winding up at the community centre. Our booth distributed stamp "N" and featured a lime green Honda Civic.
All event participants were invited to enter to win our prize for a free remote starter (winner to be determined during a live Facebook draw) and spin our prize wheel! We were pleased to see how many people were interested in meeting our team and going home with some CROWN Honda swag.
The event allowed us to meet our community members, eat lots of Filipino food, and watch some amazing performances.
We can't wait to see everyone again next year!